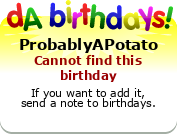 Leave a watch and I'd appreciate it, leave me some moolah and I will kiss you.
I am a 14 year old digital and traditional artist, I appreciate all watches, favs, comments, etc. Please do not feel afraid to criticize my art!
My commissions: OPEN FOR A LIMITED TIME
Requests: OPEN TO FRIENDS
Pixel dinos: OPEN
Save the bees! More info here:
www.cheerios.com/bringbacktheb…
Get your free wildflower seeds and HELP SAVE THE BEES! (hehe, kinda rhymes)
NOTE ME IF YOU WANNA TALK OR REPLY ON MY PROFILE
Remember:
KIRIBAN AT 15k PAGEVIEWS!
PRIzE FOR 800th WATCHER!